API Wisconsin Home Energy Assessments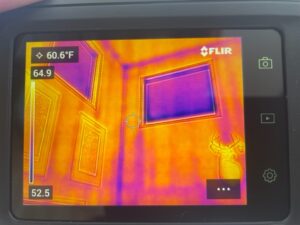 Wisconsin home energy assessments are provided utilizing a number of tools including: blower door tester, thermal image reader, psychrometer to measure humidity levels, surface moisture reader and an infrared surface temperature reader. Thermal image reading, along with moisture & humidity readings will be done prior to and during blower door testing in different areas of the home. We also have other equipment, such as smoke testers to see airflow.
A blower door test on a home creates a negative pressure within the home to tell you air exchanges per hour and allows you to evaluate with additional tools where your air flow and air leakage are entering the home.
Advanced Pro Insulators will perform our Home Energy Assessment test and give recommendations in possible ways to improve the efficiency and energy use within the home. If the home owner decides to move forward with recommendations the testing cost will be applied as a credit to the cost of the recommendations, accordingly. The Home Energy Assessment consists of a comprehensive detailed 7-point inspection list of: safety, attic inspection, box sills/foundation, HVAC system, air exchanges and air flow, home environmental readings and general home construction.