Blown-In Fiberglass Insulation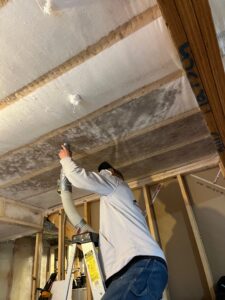 BIBS Insulation
Blown-In Fiberglass insulation includes BIBS, also known as, a Blow-in-Blanket System. Blown-in-blanket systems are utilized as an upgrade alternative to fiberglass batt insulation since it can achieve a higher R-value. A mesh netting is stapled to the exterior wall cavities and loose fill fiberglass insulation is blown into the wall cavity. After the wall cavities are filled, a vapor barrier is placed over the insulation in the exterior walls.
Blown-in Side Wall Retro-fit Insulation
Retro-fit insulation methods are used for existing homes in acoustical or thermal insulation installation applications. This method of insulation is accomplished by drilling 1 ¼" hole in the top of each cavity.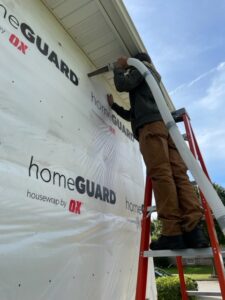 The insulation in ground in a machine which is blown through a 3" diameter hose. By the time the insulation reaches the end of the hose to be blown in, the hose is reduced down to 1 ¼" diameter, which increases the air pressure being blown at end of hose. This is called dense packing. We rely on gravity and the pressure of the air to push the insulation to the bottom of the cavity and filling it up as more insulation is blown in. Once the cavity if full, we plug the hole with a wood bung plug or plastic cap.
Fiberglass can be installed in enclosed wall cavities that have no insulation existing in them. Cellulose insulation can be installed in enclosed cavities that may have some insulation already in it, but more may be added. Cellulose is a finer insulation type than fiberglass so the air pressure can move the smaller particles of insulation in smaller areas to fill any gaps and voids.
Blown in Attic Insulation
The best method of attic insulation is blown-in insulation. Loose blow fiberglass or cellulose can be utilized in blown attic insulation. They each have their benefits to the end user.
Fiberglass vs Cellulose Insulation
Fiberglass and cellulose both have pros and cons for different situations, applications and purpose of the insulation. Contact us today to discuss your needs and we can come up with the most cost effective, efficient solution to remedy issues or concerns.